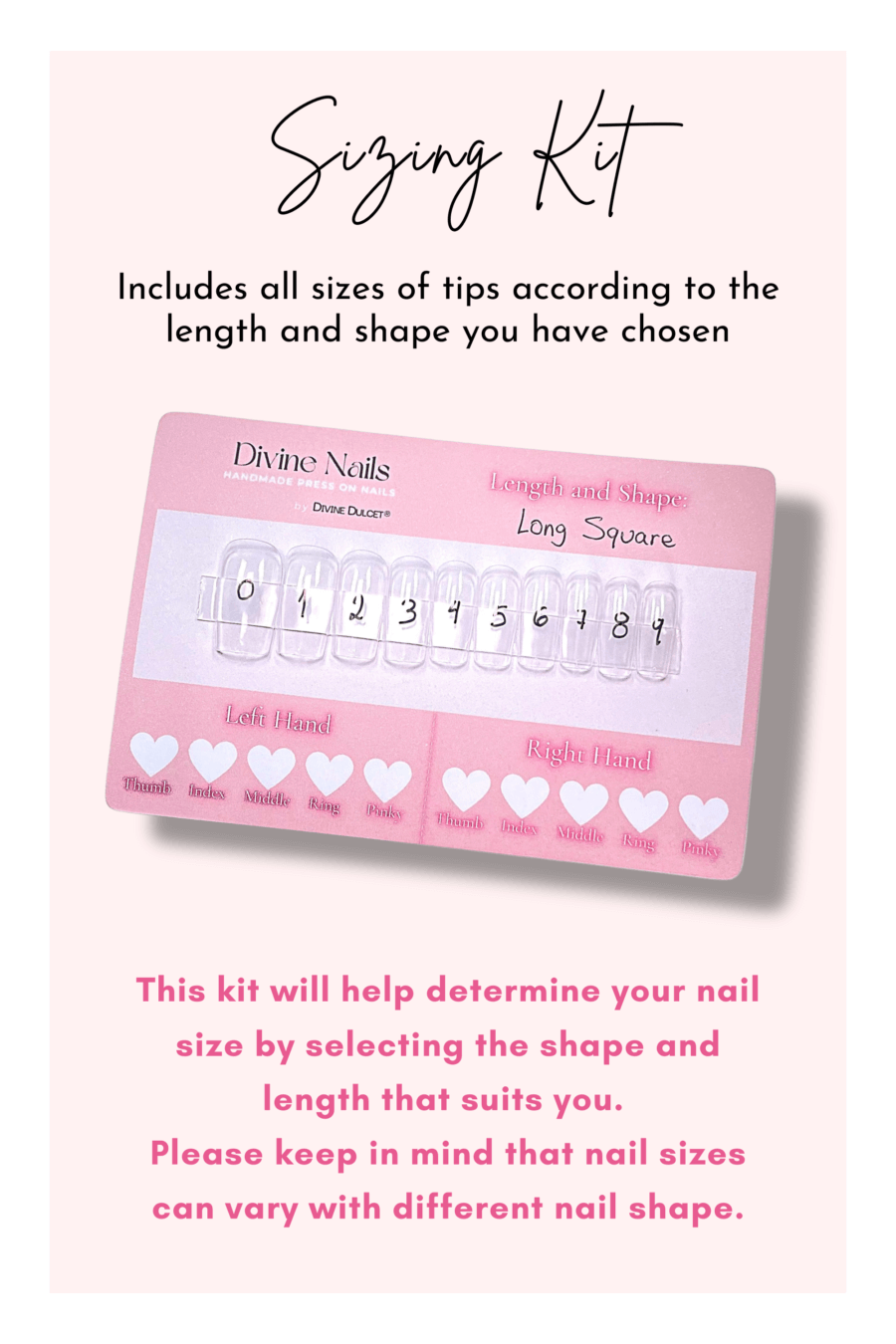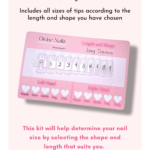 SIZING KIT | Press On Nails
€ 7,99
SIZING KIT: 10 Nails tips ( 0 – 9)
Measuring guide and sizes card
Reusable.
Description
All Shapes require their own sizing kit, sizing varies between shapes.
* Please remember that the same shape can look different on everyone depending on your natural nail bed length*
Check our table of shapes and lengths to give you an idea of how each nail look and how long they are.
– Sizing kits are available in shapes:
Almond, Round, Stiletto, Square, Coffin
– And in lengths:
Short, Medium, Long, XL, 2XL, 3XL
_________________________________________________________________________
The sizing kits are not mandatory, however they are very helpful to ensure that your nails will fit perfectly on your natural nails, which will ensure a super natural look and the durability of your press on nails.
*For the purchase of a 20 NAILS FULL SET, we include a sizing kit of the same shape and length for free so on your second purchase you are sure about your sizes and you can order only the CUSTOM – SET OF 10 NAILS* .
---
MATCH THESE PRESS ON NAILS / CHECK ALL COLLECTION
LOOK FOR MORE OF OUR BRAND
---
PROCESSING TIME
1 – 3 business day (Delivered from Zagreb, Croatia).
---
SHIPPING RATES
The shipping rates depends on your shipping address.
* Do not forget to double check your delivery address *
---
ESTIMATED DELIVERY TIME
Shipping speeds depend on your shipping address:
Croatia: 1 to 3 Business days.
Europe: 5 to 12 business days.
USA / CANADA: 15 to 25 Business days.
Worldwide: 1 to 4 weeks.
Free shipping within Croatia / Free Worldwide shipping for orders above €90 euros.
ALL SHIPMENTS INCLUDE TRACKING NUMBER.
---
Have a inquiry about this product?
---
Follow our journey
Facebook ⋅  Instagram ⋅  TikTok ⋅  Pinterest
DIVINE DULCET | Croatian Sustainable Fine Jewelry & Press On Nails
All images are property of Divine Dulcet®. all rights reserved ©